Launch of the new IDDC report on the experience of NGOs supporting people with disabilities at the UN Conference of State Parties 2021
By Amita Bhakta
The COVID-19 pandemic has impacted upon all aspects of life. On 16th June 2021, a new report by the International Disability and Development Consortium (IDDC), Adjust and Respond: The experience of organisations working with people with disabilities in adapting to the COVID-19 pandemic was launched at the side-event 'One pandemic, different realities' at the United Nations Conference of State Parties and is available to read here.
As the lead author of this report, I presented the key findings from a survey of organisations supporting people with disabilities across the world in adapting to the COVID-19 pandemic, which was conducted as part of the UN Partnership on the Rights of Persons with Disabilities COVID-19 response. The report records IDDC members' experiences of how they adapted and continued to adapt to the challenges posed directly by the COVID-19 pandemic, and illustrates the reality of people with disabilities who experience discrimination and human rights abuses around the world on an every day basis.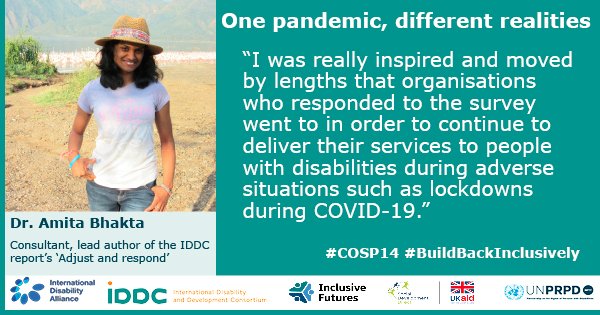 The report illustrates how the working patterns of staff within organisations shifted as the pandemic struck. Narratives gathered through the survey illustrated a range of measures taken to adapt to the pandemic and to continue to meet the needs of people with disabilities. Programmes incorporated social distancing measures and programmes such as education were moved online. Telehealth for people with disabilities became an increasing important feature of the activities of organisation. Disaster risk reduction measures became key during unexpected events such as Cyclone Amphan in South Asia in the early stages of the COVID-19 pandemic.
People with disabilities have been supported by organisations during the pandemic through a wide range of measures, including:
Support provisions at home and in health care settings;
Enabling the use of mobile platforms and telehealth;
Specialised support for health needs tailored towards specific groups;
Supporting access to employment and income and education;
Dietary support;
Provision of WASH services;
Support for participation in political activities during the COVID-19 pandemic.
The report demonstrates how existing partnerships with organisations of people with disabilities (OPDs) were critical for facilitating awareness raising activities on COVID-19,  the provision of accessible information and ensuring that services and programmes were inclusive of the needs of people with disabilities. Collaborating with national and local governments has enabled organisations to continue to address the needs of people with disabilities through their programmes. Responses during the COVID-19 pandemic have been effective through participation in national clusters, regular meetings and training with the support of ministries. Social protection and financial support measures have been put in place for people with disabilities due to community programmes with effective advocacy and communication strategies run in collaboration with local authorities.
Acknowledgements
My thanks go to my supporting author, Elisabeth Bruce, and to Ruth Faber, Elaine Green, Angélique Hardy and Dominic Haslam for their valuable support and input into this report. Thanks also to UN-Women Disability Inclusion and Intersectionality Portfolio and to Ola Abu-Alghaib and the UN Partnership on the Rights of Persons with Disabilities  Secretariat.